< Set Your Small Business Up for Success!
19.01.2022 15:28 Age: 2 yrs

Forsyth County Chamber Welcomes 2022 Board of Directors
---
We are thrilled to welcome our 2022 Board of Directors! This includes 17 new members who joined us on Tuesday, January 18th at our first board of directors meeting hosted at the Forsyth County Public Library. "The Forsyth County business community is incredibly diverse." said James McCoy, President/CEO of the Forsyth County Chamber. "We continue to have a focused effort to ensure that the Chamber Board reflects that diversity and that every business voice in our community has a platform to be heard."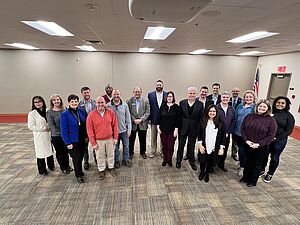 Join us in welcoming our 2022 Forsyth County Chamber Board of Directors:
Officers:
Derek Brooks, Chair
Scott Hutchison, Past-Chair
Andrew Walker, First Chair-Elect (Chair in 2023)
Steve Cooper, Second Chair-Elect (Chair in 2024)
Marvin Willis, Secretary & Treasurer
Board of Directors:
Leigh Ann Cannady, Forsyth Academy of Performing Arts
Kristen Cook, Equifax
Amita Dhawan, Cumming Pediatric Dentistry & Orthodontics
Angie Lee, First Citizens Bank
Bob McLeod, McDonald Development Group
Parish Patel, Holiday Inn Express Johns Creek / Suwanee
Bob Russell, Atlanta Landscape Group
Joanne Sanders, Digital Ignition
Doug Shaw, Jericho Design
Rupal Vaishnav, Dekalb County DA
Chris Braun, Renasant Bank
Logan Butler, Patterson Moore & Butler
Steve Cooper, Cooper & Co.
Scott Jordan, Pinnacle Bank
Matt McClure, Synovus Bank
Jan Rooney, State Farm Insurance
Mike Sobh, Sobh Honda / Kia
Carter Barrett, Affinity Bank
Mike Crumbley, Kaiser Permanente
Chris Etheridge, Frazier & Deeter
Quinn Martin, TriScapes
Alissa Tanner, Cherry Street Brewing
Brian Tam, Tam's Backstage / Tupelo
Stephanie Woody, Forsyth County News
Pearl Cai, iSprings Water
Steve Ryerse, Eclipse Networks
Bert Durand, Citizens Bank of Georgia
Pat Malaney, Martin Marietta Materials
Andrew Shannon, Wells Fargo Bank
Adrian Flack, Flackwell Properties
Charel Palmer, Pop Bar Alpharetta
Alfred John, Chairman Forsyth County Commissioners
Troy Brumbalow, Mayor, City of Cumming
Larry Duckworth, Forsyth County Development Authority
Wes McCall, Forsyth County Board of Education
Dr. Joanne Tolleson, President, Lanier Technical College (designee)
Dr. Jeff Bearden, Superintendent, Forsyth County Schools
Jason Pruitt, University of North Georgia
Jeff Butterworth, Georgia Power
Jodie Hart, AGL Resources
Brandon Hartley, AT&T
Blake House, Sawnee EMC
Mary Helen McGruder, Sawnee Mountain Foundation
Judge Phil Smith, Superior Court Judge
Anna Lyle, Forsyth County Public Library
Kevin Tanner, Forsyth County Manager
Phil Bauer, South Forsyth CID
Mark Bond, Hayes James & Associates
Lynn Jackson, Northside Hospital-Forsyth
Ann-Margaret Johnston, Johnston & Associates
Kevin McDonough (Miles, Hansford & Talent
Tracy Moon, Fisher & Phillips
Carter Patterson, Forte Data
Kristin Morrissey, Forsyth County Board of Education
David Seago, Ret. Georgia Power
Terry Smith, AC Smith Poultry
---